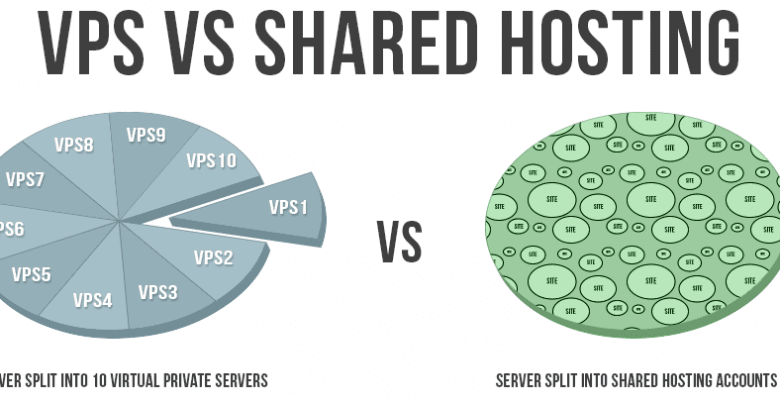 let's know the difference between VPS hosting Vs shared hosting,
that will benefit you if you're a blogger, the owner of a small business or a CEO requiring web hosting,
You might wonder if you're going to choose VPS hosting or shared hosting.
Our site: E-Helper team want to be familiar about this so there are several comparision between shared hosting vs VPS Hosting, as follows:
VPS hosting Vs shared hosting
1- Resources for servers
With VPS Hosting, You're going to enjoy more private disk space and greater overall availability of resources.
If you want to expand your business and need to offer user experience to customers that goes beyond the basic level of shared hosting will be necessary.
With Shared Hosting, If you share resources with others on the server,
when sharing resources with others on the server, you're going to face certain limitations.
While no single account affects the experience of another.
In fact, maximum available CPUs, memory / RAM and disk space will be limited.
It will not be possible for your website to use resources beyond the maximum allowed.
This might not be a big deal if you do not need a ton of space or processing power on your website.
2- Administration of servers
With VPS Hosting, You are in charge of managing your VPS unless you select a host for managing hosting services.
In terms of resource management, VPS-hosted websites are often more complex.
Therefore, a specific system administrator will usually need to focus on server maintenance.
But this is where you can customize your website and configure any application or software because it is increasing performance and safety.
With Shared Hosting, Shared hosts are handling your hosting on a website.
If you choose to host a shared server on your website,
the server requires little or no technical maintenance at your end.
This means that for your website you can enjoy basic server administration with No additional cost to your budget or waste precious time.
3- VPS hosting Vs shared hosting: Security
With VPS Hosting, it has more robust safety features, so you can ensure the safety of your site.
If your budget is permitted, you can improve customer support services that are going to help patrons when they need it.
With shared Hosting,
while it is very safe, be aware that breaches of safety may occur just because it is impossible for a common server to guarantee 100% security.
For example, This is mainly due to when a shared hosting client makes a mistake or is experiencing a technical problem,
It will probably have an impact on other sites because all are sharing space on the same machine.
Compared to VPS hosting, customer support is also likely to be limited.
However, if your website does not require users ' sensitive personal information, you shouldn't have a shared hosting problem.
4- The scalability factor
With VPS Hosting, The customizable features make it easier and faster to scale.
With Shared Hosting,
While shared hosting for the short term is a great option but in the long run,
you may face problems scalability, depending on the expansion of your website.
If you find your storage capabilities are maxed out, or if the user's request exceeds server space, you might need to consider scaling up to perform better.
Sources: Virtual private server and Shared web hosting