Let's discover how to use Ahrefs by learning about AHREFS Dashboard like their domain rating and backlink in this article you will find all that and we will completely be explaining in the next articles.
how to use Ahrefs?
Ahrefs is a leading SEO toolkit provider and information service.
This is one of the tools of online marketing.
Their aim is to help businesses invest their money in an intelligent SEO strategy, and maximize your website traffic
With their instruments, in automating your marketing practices Ahref offers a way to save time for your company.
If you know how Ahrefs can be used, these tools can support everything from backlinks to the monitoring of keywords to domain ranking.
This article tells you about Ahrefs ' advantages, and how to improve the rank of your website search engine with their tool suite, and enhance your website's traffic.
How to use Ahrefs' SEO tools
Learn about AHREFS Dashboard
The Ahrefs Dashboard is basically your Ahrefs dashboard.
When signed in, you will see your unique site list, all of which have the same metrics, such as this: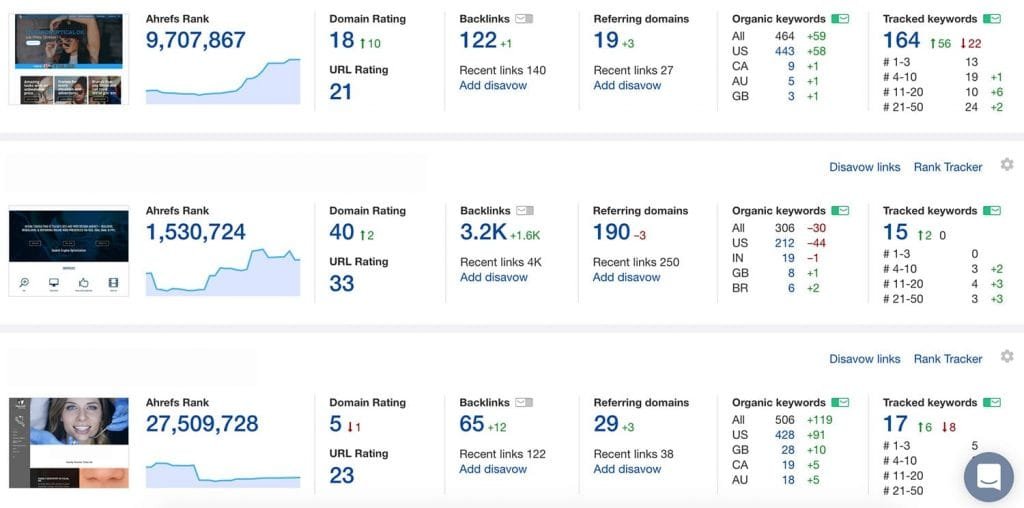 In order to understand the quality proposal of using Ahrefs quickly, you will particularly want to pay attention to the following data.
1- DOMAIN RATING

The Ahrefs Domain Rating or DR rating is an assessment of your sector based on the number of other domains.
Moz coined the term Domain Authority, or AD, prior to Ahrefs ' creation to give you a metric to interpret the power of the domain as in the Google search algorithm.
Why is Domain Rating important?
When Google sees a large number of other domains connected to your website, this means that you are a trustworthy website for certain keywords or key phrases on your website.
Which ensures that your website addresses questions people looking for on Google.
On this basis, Google will improve the search results on your page so as to provide the users with a better user experience.
2- BACKLINKS

The metric looks simple from Ahrefs, but it does have an array of inside information for your backlink profile to improve and your competitors ' research.
Why are BACKLINKS important?
BACKLINKS is the way you are connected to another domain via the link.
If another page explicitly connects to your site, a backlink is named.
Backlinks do-follow and no-follow.
Follow backlinks to other websites, links that allow Google to search bots to directly track your website when you crawl.
No-follow links are links from a different site to your site which guide your users to your website but avoid that Google Bots will monitor your website's link.
One of the easiest ways to build your own backlink set is to look at competitors ' backlinks.
The new/lost backlinks from Ahrefs record new links to the website from other websites automatically or broken links.
Additionally, you can use this tool to see your competitors ' backlinks and have a better idea who to contact.
The best part is that every 15 minutes the Ahrefs Backlink Index is updated, making one of the fastest tools available to monitor and earn backlinks.
Ahrefs also offers a warning service "mention" to warn you about your product on another website.
Do it for yourself and follow up on your contest.
Learn from your Competition
Here's a fast sidebar:
You can learn a lot about your competitors and see just where the backlinks of using Ahrefs are coming from.
Nor should you add a rival to your dashboard.
You can use web explorer to release an incredibly quality rabbit trail on any site.
To be able to look behind the website of your rival is an essential element of their ' interest.
You don't have to recruit someone to spy on your rivals or to gaze at their website for hours.
In Ahrefs it's all right: their keywords, their domains, and backlinks.
You may adopt their strategy to support your own performance.
Source from HERE
We start to talk about how to use the Ahrefs tool in the previous article and we will completely be explaining that in this article.
How to use the Ahrefs tool?
Domains

In short, Ahrefs helps you to know how many different domains your links come from and provides you with another way of measuring the growth of your website.
This can be useful in particular whenever you are campaigning or try to expand your website by adding your guest blog.
Organic keywords with Ahrefs

In short, when it comes to SEO, keywords are a big deal.
Ahrefs provides you with outstanding keyword analysis and measuring tools, helping you to keep your page on the right phrase and keywords to assist you in succeeding.
Why are that important keywords?
In short, Keywords describe the actual meaning of your website.
They are one of the main ways to tell Google what is present on your website and to gain insight into search results.
Bio keyword metric from Ahrefs helps you to know exactly how many organic keywords your website has to choose (unpaid search or PPC), you want to see this number increase for each page within the range in which you want to rank the site.
Keywords will also be an important part of Google's learning and search results on your website.
Based on the number of keywords and their importance to a Google search user, they may or may not find your website by searching for them.
How to use the Ahrefs tool to
optimize Website Base
In short, each time we start a new web building or revisit an existing website,
Keyword research is one of the first things we start with.
Keyword analysis allows you to precisely define what your website is for.
Start with the most appropriate keywords and shift from there to different levels.
This is where Ahrefs supplies the Keyword Explorer with an additional tool.
When you create a website or more simply,
you want to identify a page as a keyword, it's where Ahrefs ' keyword search would be used.
A summary of how it works
In short, The keyword explorer allows you to enter one or more keywords to see who's already in the same keyword rating.
That gives you a sense of who you oppose and whether it is even worth your time to compete for some keywords on page 1.
You often use a keyword generator to help you find combinations or also more general keywords your website could use.
It's a precious tool.
Keywords tracked
What's the difference in organic keywords vs. keywords tracked?

In short, the Keywords you control are particular keys you manually enter in Ahrefs, which you want to track actively.
In the dashboard of Ahrefs, you will see how many of the keywords you used in 1-3, 4-10, 11-20 and 21-50 ranks are,
This is a good way to measure the website's success with keywords.
Organic keywords are all keywords for which your page is listed irrespective of your position and also no matter what your keywords are monitoring.
Finally, this may make you aware that you can capitalize on a major keyword for your website.
How to use the Ahrefs tool with Rank Tracker
In short, Rank Tracker is accessible through the Ahrefs dashboard,
lets you view your tracked keywords more thoroughly,
And give you the ability to sort by different methods such as upward location.
You will go deep into keywords and can find posts or pages, that are already popular but might require an increase and also incorporate evergreen content to help them continue to gain ground.
Your website needs to rank among the leading keywords for your business to succeed.
The problem is that it takes time to track the data about your place among the top keywords.
Ahrefs Rating Tracker is here to save you time and concentrate your efforts.
Rank Tracker is a special tracker with Ahrefs that you have to insert the keywords you want to control manually first.
This is separate from the total number of keywords, this can be seen from the dashboard of Ahrefs.
Ahrefs Rating Tracker is another distinction,
And the frequency at which they are updated is the metric for keywords in your Ahrefs dashboard.
Your dashboard keyword metric will not change the Ahrefs Rank Tracker more frequently.
Although you get a good snapshot of precious SEO steps from Ahrefs,
A few days and up to a week it may be behind.
After you have linked your website, add to your Rank Tracker keywords that you want to track.
First, add the regions that are important for your keywords from the regional to national level.
From here you save time with the Rank Tracker to track keywords and also forward a file to your box.
Finally, Your rating can also see over a span of one month, three months, or also a year at a glance.
Source from HERE