In this post, the E Helper team wants to teach you, How to Make Money With Affiliate Marketing step by step? & the meaning of Affiliate marketing in short. Let's start with a very brief definition before we get too deep.
Affiliate marketing
Affiliate marketing is when you get a traffic commission from an online retailer. It also sales generated from your referrals.
6 Steps to Make Money With Affiliate Marketing
let's talk about how to get started with affiliate marketing to earn money.
1. Look for your niche
Selecting a niche will focus your business and also help with your content. It will also make targeted marketing campaigns easier to create.
You can check an affiliate retailer's niche such as ClickBank to see if time is worth it.
To do this:
1- Go to the website of ClickBank.
2- Click on Affiliate Marketplace.
As shown below:
From there you'll see categories in red on the left:
By clicking one of the categories, a page with filters on the left will appear, and also the various products you could sell to the right for your niche.
For example, I clicked on E-BUSINESS & E-MARKETING
Then I chose Affiliate Marketing
The page that appeared is as follows: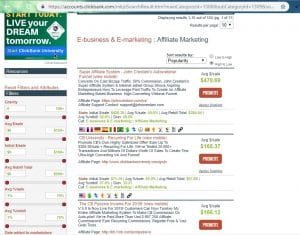 What you are looking for are our products with a high score of gravity, and a decent average per sale income, and that would fit your content, of course.
If you find a lot of products you could write about,
You found a niche that was profitable.
2. Create a website
After you've found a profitable niche you're looking forward to,
You're ready to construct a blog and website.
WPBeginner has an excellent guide to help you select the best platform for blogging.
Your site will focus primarily on your blog, but there are several pages to consider including, such as:
1-About
2- Contact
3- Terms of Service
4- Disclaimer
5- Privacy Policy
6- Custom 404 Page
7- Advertise: if you plan to sell on-site advertisements,
4. Select affiliate products to promote
Choose your niche-fitting products that relate to your content.
List all the products and also services that you're using and hit Google to find your affiliate programs.
Some tips about what, such as you should do:
A- Promote products that meet the needs
B- Promote products your audience would like to know about them
C- Promote products in your niche from others
5. Join a network of affiliates
Marketing networks of affiliates are essentially online markets where retailers are listing their products and the products can find to sell by affiliates.
The network of marketing acts as a middleman.
You should never have to pay as an affiliate to sign up for a marketing network of affiliates.
Here are some of the most popular networks of affiliates out there, such as :
ClickBank
Amazon
CJ Affiliate
6. Follow up on your results at once to Make Money With Affiliate Marketing
MonsterInsights can be used to easily track your affiliate products ' performance on a WordPress site.
To get started, the MonsterInsights plugin will need to be installed and activated.
Then connect your Google Analytics account to your WordPress site.
Once activated, go to Insights and then click Settings in your dashboard for WordPress.
then Choose the Tracking tab.
The tab has several sections.
We start in the section Engagement where you can see MonsterInsights tracking events by default to Yes, what we're going to want.
Since in this section, we do not need to take any action, So Click the Affiliate Links button.
We will complete an explanation in some detail in the next article.
[sources: Wikipedia & Clickbank]
Also Read: The most important services and tools needed by affiliate marketing commissions