SEO Basic & Tutorials
10 Incredible Benefits of SEO for Dental Business
How to Use SEO Marketing to Boost Your Dental Business
In the realm of orthodontist businesses, the adoption of online marketing strategies has become widespread, with many relying solely on these strategies to boost leads and sales. Within this landscape, search engine optimization (SEO) stands out as a pivotal component of these strategies, offering a multitude of benefits when executed effectively to attract patients.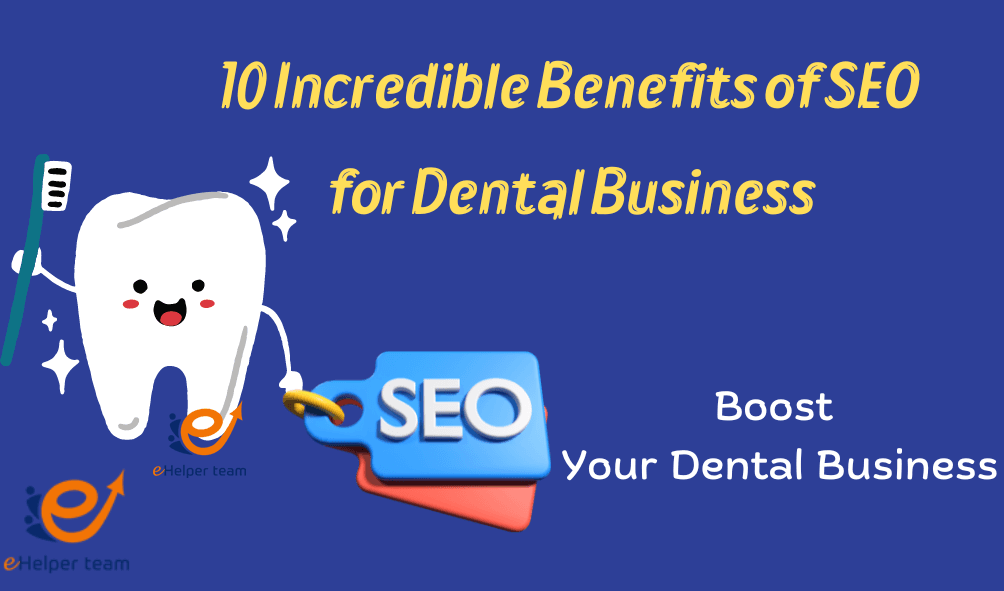 SEO for Dental Business
Despite the evolving digital landscape, the efficacy and significance of SEO as a marketing strategy remain unaltered. While the advantages of SEO are plentiful, here are ten remarkable benefits that underscore its importance within marketing strategies tailored for orthodontists:
1- Precise Traffic Targeting:
At the core of SEO lies the principle of attracting inbound traffic that already holds an interest in the content or services being offered by the business. Diverging from conventional strategies like spamming or cold outreach, SEO involves facilitating a seamless path for the audience to discover your business and its offerings. This approach not only enhances the likelihood of reaching potential clients but also connects directly with those on the verge of seeking your services.
2- Ad-Free Visibility:
Unlike paid advertising, where visibility hinges on sponsored placements, SEO capitalizes on Google's organic ranking algorithm. This implies that by creating optimized content that resonates well with SEO, your website can garner sustained traffic without the necessity of investing in ads.
3- Enhanced Organic Clicks:
While pay-per-click (PPC) ads do command attention, studies indicate that organic search results still dominate user clicks, with over 71% of clicks attributed to the organic listings on the front page. Harnessing SEO allows your business to target leads through relevant content hosted on prominent search engines such as Google, which processes billions of searches daily.
4- Elevated Brand Recognition and Trustworthiness:
A strong SEO presence elevates your site's visibility on search engines, positioning it at the forefront of user searches. This exposure translates into a larger audience engaging with your brand's content. Ranking prominently for target keywords fosters a sense of credibility and trust among users, effectively bolstering your brand's reputation.
5- Facilitates Site Usability:
A website enriched with informative content tailored to your target audience not only keeps them engaged but also encourages return visits for expert insights. Consequently, consistent user engagement augments site traffic and usability. This dynamic content not only benefits clients but also draws considerable traffic to the site.
6- Long-Term Results:
Successful SEO initiatives yield enduring outcomes. By consistently producing valuable content and adhering to SEO best practices, your website can secure high-ranking positions over time, resulting in sustained organic traffic without ongoing advertising expenses.
7- Cost-Effective Strategy:
In comparison to other marketing avenues, SEO proves to be a cost-effective approach. The absence of continuous ad payments and the potential for long-lasting organic traffic makes SEO a more budget-friendly option for orthodontist businesses.
8- Competitive Edge:
Employing robust SEO techniques provides your business with a competitive edge. Ranking prominently in search engine results sets your orthodontic practice apart from competitors, enabling potential patients to easily find and choose your services.
9- Adaptable to Algorithm Changes:
Search engine algorithms evolve, but a solid SEO foundation allows your business to adapt seamlessly to these changes. Staying updated with algorithmic shifts ensures consistent visibility and continued relevance.
10- Global Reach with Local Precision:
SEO empowers businesses to target both local and global audiences. This versatility is particularly valuable for orthodontists seeking to attract patients within their vicinity while also accommodating those searching from afar.
In conclusion, as diverse marketing strategies for orthodontists emerge, SEO retains its position as a cost-effective, reliable, and targeted approach to attracting informed leads and bolstering brand presence. For comprehensive insights into optimizing your orthodontic practice's marketing efforts, feel free to get in touch with us today.
Also: 8 Reasons Why Good Content Marketing is Still So Important in 2023
How to Use SEO Marketing to Boost Your Dental Business
Utilizing SEO (Search Engine Optimization) marketing can significantly enhance the visibility, credibility, and patient acquisition for your dental business. Here's a comprehensive guide on how to effectively employ SEO marketing to boost your dental practice:
1- Keyword Research:
Begin by conducting thorough keyword research to identify the terms potential patients might use when searching for dental services. Focus on both general and specific keywords, such as "dentist near me," "teeth whitening," or "dental implants."
2- Optimize Your Website:
On-Page Optimization: Ensure that each page of your website is optimized for a specific keyword. Include the target keyword in the page title, headings, meta descriptions, and throughout the content.
High-Quality Content: Create informative, engaging, and relevant content that addresses common dental concerns, procedures, and oral health tips. Content can include blog posts, articles, videos, infographics, and patient testimonials.
Mobile-Friendly Design: Ensure your website is responsive and mobile-friendly, as Google prioritizes mobile optimization for search rankings.
3- Local SEO:
Google My Business: Set up and optimize your Google My Business (GMB) profile. Provide accurate information, including your business name, address, phone number, and business hours.
Local Citations: List your dental practice on local online directories and healthcare listings to improve your local online presence.
Local Keywords: Incorporate location-based keywords to target patients in your area, like "dentist in [city name]."
4- Technical SEO:
Site Speed: Optimize your website's loading speed for better user experience and improved search rankings.
Sitemap and Robots.txt: Ensure your website has a sitemap and a properly configured robots.txt file to help search engines crawl and index your content.
5- Link Building:
Quality Backlinks: Build high-quality backlinks from reputable websites related to healthcare, dentistry, or your local community. Guest posting and partnerships can help in acquiring these backlinks.
Internal Linking: Interlink your web pages using relevant anchor text to guide users and search engines through your site's content.
6- User Experience (UX):
Navigation: Design an intuitive website navigation structure that helps users find information easily.
Engaging Design: Employ a visually appealing and user-friendly design that encourages visitors to stay on your site longer.
7- Social Media Integration:
Social Sharing: Share your content on social media platforms to expand your reach and drive traffic back to your website.
Engagement: Engage with your audience on social media to foster relationships and build credibility.
8- Regular Updates:
Fresh Content: Continuously update your website with new and relevant content to demonstrate your expertise and keep visitors engaged.
9- Technical Maintenance:
Regularly monitor and fix any technical issues that might impact your site's performance.
Monitor and Analyze:
10- Google Analytics:
Use tools like Google Analytics to track website traffic, user behavior, and the effectiveness of your SEO strategies.
Adjustment: Based on the data, refine your strategies by focusing on what works best and adjusting areas that need improvement.
11- Patient Reviews and Testimonials:
Encourage satisfied patients to leave reviews on platforms like Google, Yelp, and Healthgrades. Positive reviews can boost your online reputation and attract new patients.
12- Stay Updated:
Stay informed about SEO trends, algorithm updates, and best practices to ensure your strategies remain effective.
Remember that SEO is an ongoing process that requires dedication and patience. By consistently implementing these strategies and adapting to changes, you can effectively use SEO marketing to boost your dental business's online presence and attract a steady stream of patients.