SEO Content
Join the iWriter website to earn money writing
In this article you will learn more about the site that brings you money. Only if you like writing and making it, especially English. Then If you have all these features. If you will have a job on this site which is called the iWriter website.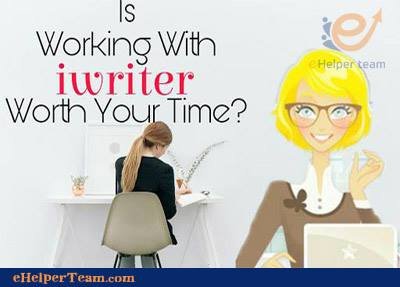 Join the iWriter website to earn money writing
Working on iWiter is very easy. So that's all you have to do on the site after you sign up. So it is a choice if you are a writer and want to get money for writing to clients. Or if you are a client and want someone to write to you and pay him a return. Only if you can take advantage of it double-sided.
How to register in iWriter
You can access the site from here
Type your first name.
Family Name.
Your personal email (email).
Type the name of the user you want to use on the site and show it to everyone.
Type the password you want.
Rewrite the password.
The password strength will give you a green or if it is weak in red.
Type the code in the image.
Click on the box to select a valid sign which means you agree to the site terms.
Click on write content now, which means "write content now", that is, start writing on the site.
How to get a job via the iwriter website
Is the main interface page of the site which you can refer to when you are in any corner of the site.
If you want to get an article by someone who writes it to you, press it.
If you are a writer and want to write articles for a fee from the client, click on them.
Is the current balance you received on the site against your writing of the articles, or your remaining balance in case you are a customer and pay for the articles.
Private messages between you and the client.
Your site rating by the people you've dealt with.
For customers, follow the steps to get an article from a good book.
As a writer, these are the steps you must follow to write articles for someone.
Either if you want to know more about how to use the site. Here the site gives you two lessons of video lessons. The number 1 is dedicated to the customer. So if you want someone to write to you. In the other section figure 2 is for people who want to write articles for clients. Then use the video for your interests to learn more about how to use and work on the site.