Have you ever asked yourself which is the best Blogger or WordPress? Blogger VS WordPress
Are you confused about the choice between Blogger and WordPress?
You can not choose between the two platforms and do not know whether you are creating a free blog on Blogger or creating your site using the world's most famous blogging platform WordPress.
A comprehensive comparison between WordPress VS Blogger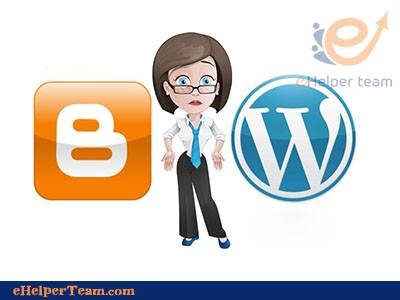 In this article I will do a comprehensive comparison between Blogger and WordPress so you can choose between the platforms and determine which is best to create your website.
Advantages and disadvantages of Blogger
In this section of the comparison between Blogger and WordPress. I will mention the disadvantages and advantages of blogging platform blogger.


Advantages of blogger
You can create a blog on Blogger without the need to pay the cost of buying hosting for your site or blog Google offers you the service free of charge and does not require any expenses. You will only pay expenses if you want to eliminate the subdomain that Google gives you for free and ends up with blogspot.com and you want to buy a Domain, for example .com or .net or .org or whatever you want.
In this case you will pay the cost of the domain of the company from which you purchased the domain and will not ask you to blogger any additional costs as well.
Excellent protection from hacking
Features of the blogger it hosted on the server giant Google. And what you know what Google and security in servers and therefore your blog is considered immune against hacking to a large extent.
Because hacking your site means hacking the whole blogger and it is impossible to some extent. In addition to that, Google does not give you access to the files of your site. And therefore the possibility to upload files that lead to the penetration of your site is zero.
Easy to install and manage Blogger
Participating in Blogger and creating a new blog on Blogger is very easy. You can subscribe to Blogger easily by going to the Blogger site and then creating a blog from the blogger dashboard.
As I mentioned earlier that blogger blogs are hosted on Google servers. And therefore it guarantees you a very high surfing speed. Because it does not give you access to your files and does not allow you to install add – ons or files that will reduce the speed of your site.
However, it is important to note that the template of your blog may significantly affect the speed of uploading your blog. So you should choose your blog template carefully.
Unlimited number of blogs
Blogger gives you the possibility to create an unlimited number of blogs from the bulletin boards blogger. In addition, new blogs will not affect old blogs.
Disadvantages of blogger
Do not give you access to your website files
One of the most important disadvantages of Blogger is that it does not give you access to your files. You can not edit your files or upload files to your site.
One of the problems facing Blogger is its lack of periodic updates or lack of platform. This may be attributed to the fact that it is owned by Google and is not followed by great interest in my opinion. This is in contrast to WordPress, which is being developed by thousands and thousands of developers from around the world. Because it is an open-source script.
Blogger does not support install of plugins
One of the disadvantages of Blogger is that it also does not give you the possibility to install plugins on your blog like WordPress. Therefore, you can not add any other features to your blog.
Blogger for SEO Search Engines
In general, both platforms are good for configuring the code for search engines. But WordPress gives you the possibility to install many plugins like Yoast SEO and All in One SEO. Which give you more and more possibilities to improve your ranking in search results.
Advantages and disadvantages of WordPress
Now we turn to talk about the advantages and disadvantages of the WordPress platform, which is the largest blogging platform in the world and the most widespread and developed.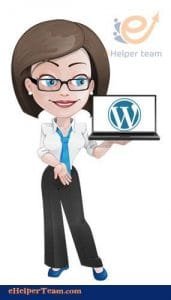 My talk here is about WordPress script, not WordPress.com like Blogger.
Advantages of WordPress
I will not talk too much about the advantages and disadvantages of WordPress. But I will only mention points because I have talked about them extensively above in the advantages and disadvantages of blogger.
WordPress Script is an open source script that is completely free. To create a website using the script, you must first host WordPress from a hosting company, Bluehost or SiteGround. Then install WordPress script on the host.
You have full access to your website files
Unlike Blogger, you can fully control your site files and access all site files easily from the hosting control panel. You can also control files via the WordPress control panel.
WordPress offers constantly updates to the script unlike Blogger. This offers new features and advantages from another period.
Supports the installation of advanced plugins
Supports WordPress feature pluginss where you can add more of the great functionality of WordPress through free or paid. Where you can create any site you want as a ticket booking site or an online store or a subscription site or forum and others.
Distinguish WordPress from Blogger as being much better than its SEO friendship search engines. There are a lot of plugins that help you to write content that is compatible with search engines without having the experience to add to the speed of archiving.
Your website is yours only
You are the one who sets the terms of use of your site so you can not close your site unless you violate the terms of the hosting company. I think it is unlikely that it will be broken.
Disadvantages of wordpress
Although WordPress Script is an open source script and completely free. You only have to pay for the hosting and hosting costs periodically until your site continues to work.
Although WordPress is one of the most popular content management scripts. But it is less secure than Blogger, where it can be hacked, although 90% of hackers are caused by user errors.