E-commerce
Discover the ways of charging your Payoneer account
Discover the ways of charging your Payoneer account, this is our topic today.
Many beginners may have to deal with the Payoneer e-Bank on ways to recharge and add credit to their pioneer card.
In this article we will learn how to deposit a Payoneer account balance in an easy and simplified way hopefully for beginners.
Discover the ways of charging your Payoneer account
From a certified company
And here we mean companies that already have a custom payment system on the Payoneer Bank sites
click on Ads PTC and links shortcut sites and also upload files we can request payment on the Payoneer bank.
Bank of America Account
When you create a new Payoneer account your American account is created and you can receive money
from several banks such as PayPal-Pisa-and when you send money to this account automatically added to your Payoneer account.
From another Payoneer account
People who have a Payoneer account can transfer credit to our account
and there are many sites that are competent in these matters such as five mini-services.
From another card to the Payoneer card
If you have another Visa or MasterCard card from any bank, you can recharge your Payoneer account by Credit card Loading,
but that method may have some complications,
especially as they are approved individually by the bank's transactions department and most of these are unfortunately rejected.
Referral System of  Payoneer account
By inviting others to register with a Payoneer bank account through a dedicated link to your account
and when you treat and charge the account for $100 or more,
$25 will be transferred to your personal account only once for each person registered through you and completed the process.
Google AdSense Account in Payoneer account
We can transfer funds from our AdSense account to Payoneer by transferring payments to our bank account "Our US bank account in step 1", but this method is for the American air-soft accounts only in the normal AdSense.
It is necessary to notice that there are some properties not to do unless the money is receiving by the first
and second step for at least once and the best ones are with working with companies either individually
or collectively although not supporting the Payoneer card shipping from financial companies like Western Union
but believe Those companies will making available with fewer restrictions than those now
and many people may also be able to charge the Payoneer card via ATM machine and add money
but unfortunately the money can only be added in the ways we are mentioning above.
How would I load an installment onto my Payoneer Prepaid Card?
Once Payoneer gets an installment from your Payoneer mass payout organization, you will get an "Uplifting news" email teaching you how to stack the assets to your card. There are two stacking alternatives:
"Prompt Load" (reserves are stacked inside two hours) and "Standard Load" (reserves are stacked inside a couple of days). The charges for each stacking alternative will show up close to it.
You can likewise stack your assets through your Payoneer Account by choosing the Transactions tab situated under the Activity menu. There you will have the alternative to stack your pending installment.
It would be ideal if you note: Your Payoneer exchanges/installments can take a couple of hours to think about your record. Indeed, even once your installment has been stacked to your record, it can take as long as 6 hours for your online exchange/installment rundown to refresh.
read more: Differences between Payoneer and PayPal
Worldwide Payment Service – get paid from US, EU, UK and Japanese Companies
The Global Payment Service permits you to get installments from organizations in the US, EU, UK and Japan as though you had a neighborhood financial balance. It works in the accompanying manner:
Payoneer gives you the subtleties of an accepting record
You give these subtleties to the organization, with which you work
The organization utilizes these subtleties to send a neighborhood bank move
You get the installment to your Payoneer account
To see the subtleties of your Global Payment Service getting accounts, sign in to your Payoneer account, go to the Receive tab and select Global Payment Service.
You will see the subtleties of the getting accounts in various monetary standards.
You can present these subtleties on the online stage you work with or email them to your contact individual inside the organization.
Solicitation a Payment – charge your customers legitimately from Payoneer
The Payoneer Request a Payment empowers you to charge your clients and get installments. Through the Request a Payment you can send installment solicitations to your clients, who would then be able to pay you for the merchandise or administrations you give. It works in the accompanying manner:
In your Payoneer account, you make an installment demand
Your customer gets an email with your installment demand and a connect to the online installment application
The customer presents the installment either on the web or through their bank
You get the installment to your Payoneer account
To make an installment demand, sign in to your Payoneer account, go to the Receive tab and select Request a Payment.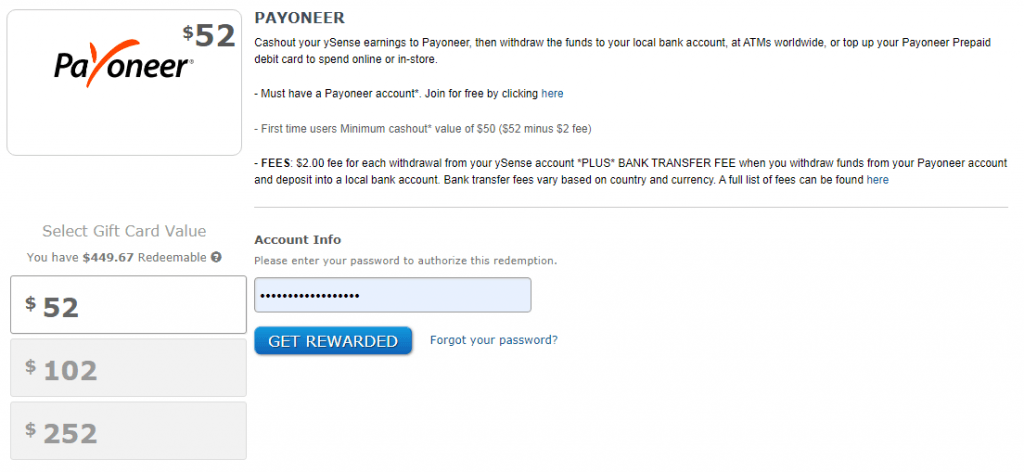 Mass Payout Company – get paid by your member, specialist or designer stage
On the off chance that the organization you work with offers Payoneer as an installment choice, you can get paid in the accompanying way:
In your record with your paying organization, select Payoneer as your installment alternative
Follow the means to connect your record with your foundation to your Payoneer account
When the organization sends an installment, it will land straightforwardly in your Payoneer account
For a case of how to interface the organizations you work with to Payoneer, kindly allude to this blog entry.
read more: How to sell t-shirts online and realistically make a profit