Today we will know how to Google search console verify domain property with 12 steps because this is an important thing to all who have a website.
Google continually updates the characteristics of the domain in the Google Search Console.
It implies you can now have an overview of all variants of your website, such as HTTP, https, www, non-www, or also m.
As you are aware, Google considers such versions to be separate websites.
From a technical perspective, it makes sense, but for webmasters and also users, too many unnecessary steps involved, so the step Google added this feature is really fantastic.
To check your domain in the Google Search Console, Access to your hosting is necessary and then there is a txt DNS record added.
And at the end of the article, even if you don't get any clue what a DNS record is, you will do this.
Google search console verify the domain property
Domain property to verify, Finish the measures below:
1- Go to the official website by click HERE.
2- Choose the ' Add Property ' button.
3- Select Domain and enter the name of your domain.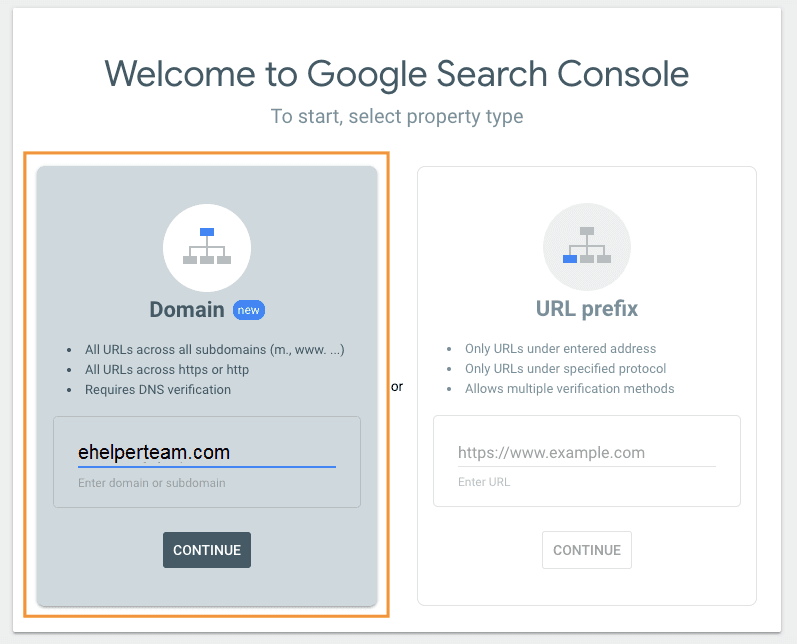 4- Click on this button "Continue", then, you will be redirected in the next phase.
5- Copy TXT record to your domain verification.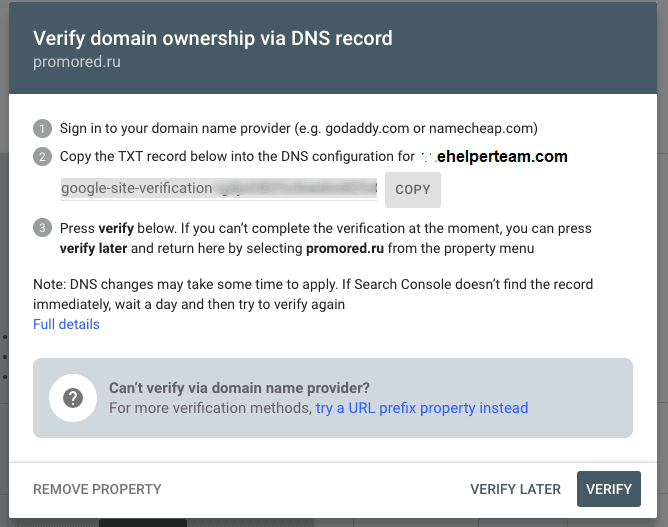 6- Sign in for your hosting.
As an instance, I'll be hosting "Hosting name" with cPanel.
Note: Specific information for your hosting can be found here.
7- In Domains, Search on Zone Editor which is one of the options below.

8- Select the domain in Google Search Console that you must check then Click on the ' Manage ' button.
9- Choose TXT as the record type and add a record.
10- Complete the following data in the remainder of the areas, such as:
Name of the valid area – The name for your domain

 TTL – 3600

Text – In step 3, copied your verification text.

11- Click on ' Add Record ' to save it after all the areas have been completed.
12- Click "Verify" after going back to the Google Search Console.
Do not worry if the Search Console does not immediately verify your domain ownership.
You can get this at the beginning:
In short, you may need to update your DNS records, and Google to collect them.
You may try to click 'Verify' a lot or more times until you got this:
Domain Properties notes
1- In short, A domain property can be added to GSC that has already added different versions to the same website.
This will not unite these versions, they are going to co-exist with your new domain.
2- In short, If you want to check various GSC account domain characteristics, for each of these accounts, you'll need to add a distinct DNS record.
3- In short, The verification method needs sophisticated competencies and also DNS Records access,
this implies you're going to need to get a domain property checked with customers back and forth.
4- In short, Domain property user management operates the same as with normal websites.
With separate permissions, you can add customers.
These consumers do not have to check the domain characteristics to which they have access.
5- In short, If you have already added GSC versions of your website,
you won't have to wait for indexing and additional information to appear.
After your property of domain has been verified, All information will be accessible in it instantly.
6- In all Google Search Console accounts, you'll see distinct URL variants.
Source: Wikipedia