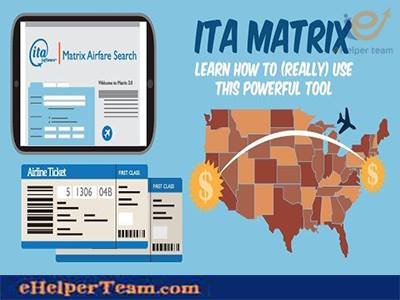 ITA Matrix is one of most powerful flight search software in the world. Also it is one of the best travel sites. Many people want to use some of the most powerful flight search software. That's where the ITA Matrix comes in. If you want a single website to make all the flight information available, you can get the most out of the ITA Matrix platform from Google.
ITA Matrix definition
ITA Matrix is a flight search engine. It can analyze the flight routes. Also it has prices for most airlines. The platform is by several MIT scientists in 1996. Also It is as a flight search engine to find the lowest fares across all airlines. In 2011, Google took the software and used it in their Google Flight Search. In these days many major travel providers (including airlines such as Delta and United) use the ITA software in order to power their flight searches.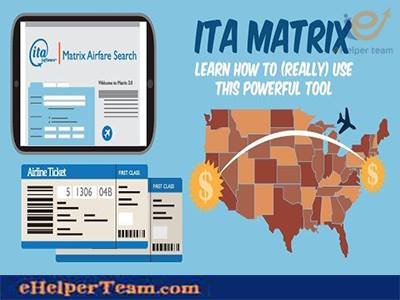 ITA Matrix functions
ITA Matrix has many functions. These functions are
1- The ability to designate an airline or alliance you want to fly with.
2- The ability to designate specific connections,and number of desired stops from nonstop to up to 2 stops.
3- The function of  Searching on a calendar view, and it is for the cheapest flights for the month.
4- The specification of departure flexibility up to 2 days.
5- The searching for airfare for up to 9 travelers (adult, children or infant).
6- The usage of different currency for cheaper fare.
7- The searching for multi-city flights, one way, and round-trip.
8- The usage for a different Sales city in case of purchasing from abroad.
9- The ability to designate length of layovers/stopovers.
The search on ITA Matrix
On ITA Matrix page, you will find these steps
1-  You will find Round Trip, One-way, or Multi-city
Choose your trip type. The difference between round-trip or one-way is that you won't be allowed to select return dates for the latter.
If you want more than there-and-back trip choose multi-city. It makes you choose multiple different departure and destination cities.
2- Departing from / Destination city
Type in the airport code (ORD, JFK, etc.) or city name and the Matrix will find the suitable airport. You can have it choose all airports within an area if there are multiple.
3- Advanced Routing Codes (Optional)
Use these to choose or exclude specific airlines.
4- Dates (Exact or Calendar)
You will see search exact dates, and see calendar of lowest fares
5- Outbound and Return Dates (Exact or Flexible Date Options and Preferred Times)
You will put the dates you need if your trip days are inflexible. Also use the options to make your departure and arrival time flexible up to +/- 2 days. You can choose preferred flight times. This if you want to restrict the search to a certain time of day.
6- Number of Adults (Children or Seniors Optional)
You can search for flights for yourself or another adult. Also you can add children and seniors.
7- Cabin Type (Class of Service)
You can choose (cheapest available). Also you can change to premium economy, business, or first.
8- Stops/ Extra stops
There are number of desired stops or extra stops. Also you can choose non-stop, one-stop, or two-stop flights. Then, you can  have the program search a range, such as 0-1 stop, 0-2 stops, etc.
9- Other ( Allow airport changes, Only show flights and prices with available seats)
You can use these options to be sure that you make it back to the same airport you left from. Also you don't have to swap between airports on multi-stop trips.
You can also search for airline tickets even if they don't have seats, in case you want to compare.
10- Currency / Sales City
After that click on search.
ITA Matrix limitations
It is one of the most powerful flight search software, but it has limitations. Southwest Airlines flight prices are not displayed. Also You can't buy directly through it.
top 5 travel sites to reserve cheap travel to save money