The Spanish platform for Bitcoin announces the expansion of its services to a global scale. And are now available in more than 130 countries worldwide. People in supported countries can take advantage of Bitnovo platform services including buying and selling Bitcoin. As a result instantaneous conversion of Bitcoin to Euro-shipping of pre-paid Bitnovo cards.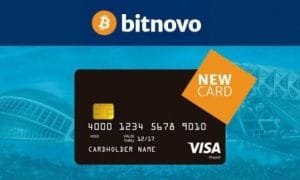 Bitnovo platform recently started issuing virtual VISA cards
Bitnovo platform customers can place online order for new Visa cards from any of the 130 countries supported. Furthermore Customers requesting a prepaid card can choose the fast delivery option available to receive a plastic card within 48 hours.
Bitnovo platform to convert Bitcoin to VISA cards
Bitnovo takes pride in providing services that make virtual currency concrete, affordable, safe and easy to use Platform, with a new Visa prepaid card and allows users to refill the card by converting Bitcoin to Euro. So card prepaid with a Bitnovo platform.
Advantage of VISA cards
First of all the user can take advantage of all Visa card benefits and guarantees. For convenience, users. Therefore Each card can reach a maximum of up to € 20,000. People can used Bitnovo prepaid cards at any of the ATMs supported worldwide to withdraw cash. In the event of any problems, Bitnovo platform has developed a technical support service specializing in English and Spanish to answer card inquiries.
How can people buy and sell Bitcoin
People can buy and sell Bitcoin on these Bitcoin ATMs. Users can also take advantage of the Bitnovo platform coupon option to purchase physical Bitcoin without having to disclose one's personal information.
All these features make Bitnovo one of the fastest and most secure platform offered for Bitcoin services in the market. Not only does it make buying and selling Bitcoin easier but also enables the purchase of goods and services from institutions that currently do not accept Bitcoin as a means of payment.
Find out more about Bitnovo through the official website
And to learn more about BitCoin from here